Angela Chase is a fifteen year old female who is a sophomore at Liberty High School. She is the daughter of Graham and Patty Chase. She is the older sister of Danielle Chase. She appears in all 19 episodes.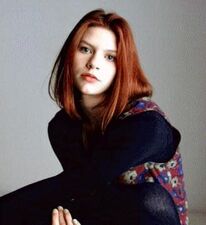 Biography
Edit
Angela has been friends with Sharon most of her life. She and Sharon were Girl Scouts together.
Sometime during her sophomore year, Angela befriends Rayanne and "drops" Sharon, spurring Sharon to confront Angela in the girls' bathroom to ask what she did. She cites many changes in Angela's appearance personality, such as her dyed red hair, which Sharon hates, and her sudden disinterest in the yearbook, an elective which she dropped. She claims rumors are circulating about Angela, but it appears to be a ploy out of jealousy.
She has been kissed four times.
See the Timeline for more details.
Behind the Scenes
Edit
Angela is played by Claire Danes.