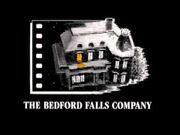 The Bedford Falls Company (or Bedford Falls Productions) is the production company which produced
My So-Called Life
. It is headed by
Marshall Herskovitz
and
Edward Zwick
. The company has produced many other programs and movies.
The Bedford Falls Company was named after the fictional town in the movie It's a Wonderful Life. An overhead view of a facsimile of the Bailey household appears in the production logo, which also features a man and a woman singing the last line of "Buffalo Gals" (a song featured in the movie), "..and dance by the light of the moon."
Ad blocker interference detected!
Wikia is a free-to-use site that makes money from advertising. We have a modified experience for viewers using ad blockers

Wikia is not accessible if you've made further modifications. Remove the custom ad blocker rule(s) and the page will load as expected.